The novel innovation of B2B business over the web has bought a radical change in how businesses function in today's age and time. B2B businesses are a kind of business transaction that is conducted between one business and another. These transactions are most popular in the supply chain, where one company will purchase raw materials from another to be used in the manufacturing process. The B2B industry offers unprecedented profits and gains which makes a person everything from nothing. A sudden elevation is apparent in the B2B industry as many businessmen have moved towards conducting business to business transactions.
According to Forrester, U.S. business-to-business (B2B) e-commerce transactions are expected to reach $1.8 trillion by 2023. This would account for 17% of all B2B sales in the country.
The world encompasses numerous top-notch websites which offer B2B transactions. here 15 best B2B websites from cross the world:
1. eWorldTrade
One of the world's fastest growing online wholesale B2B market place with innovative features specially developed for traders to reach global level and set novel milestones. They provide necessary functionalities to buyers and sellers to help them develop their businesses worldwide. They have engineered their portal to be highly user-friendly thereby allowing buyers to connect with users quickly. eWorldTrade is a passionate website helping businesses connect and grow.
2. Amazon
While talking about e-commerce, how can one miss out on the rip-roaring website of the world, Amazon? Similar to Alibaba, Amazon is also one of the world's leading e-commerce websites which have operations in numerous cities of the world. Founded in the 90s, Amazon comprises the most extensive range of products across almost every category that one could think of; Amazon customers lean on the site most for consumer electronics and technology, followed by software and games. Amazon also offers digital products like Prime Video, Amazon Music, ebooks, and more. This American Company has suppliers and buyers in almost every country, which helps them pull of phenomenal productivity.
3. Alibaba
Headquartered in Hangzhou, China, this Chinese website has global operations. Launched in 1999, Alibaba is China's and the world's biggest e-commerce website by some measures. Its three important sites include Taobao, Tmall, and Alibaba.com. Alibaba comprises millions of users who do business and make colossal cash.
4. Fibre2Fashion
Built with an aim to bolster and serve the textile fraternity, Fibre2Fashion Pvt. Ltd is a market driven B2B portal that marked its existence in the year 2000 and since then, has consistently been growing leaps and bounds. Their rich experience, commitment, accountability and innovations have helped to foster the business of small, medium and large companies and enterprises associated with us. With digital presence in more than 190 countries we have been able to carve a niche for themselves in the industry.
5. Exporters India
Exporters India is India's largest searchable B2B marketplace and Exporters Directory that connects Manufacturers Exporters Suppliers and Buyers to generate value from unlimited online trade opportunities and Buyer Enquiries. ExportersIndia.com is the trusted B2B Marketplace where only genuine business enquiries supplement trade deals between buyers, suppliers, exporters and importers of every origin. A number of manufacturers, suppliers, exporters, wholesaler, traders and service providers get maximum exposure to the potential buyers with Exporters India. At Exporters India, a slew of global business entities meet, initiate, share and gain from underlying trade opportunities.
6. Made in China
Being a comprehensive service platform for foreign trade, Made-in-China.com is committed to tapping business opportunities for Chinese suppliers and overseas buyers, and providing one-stop services for promoting the international trade between the two sides. Over the past few years, Made-in-China.com has become one of the most extensive and reliable web addresses for international trade.
7. EC Plaza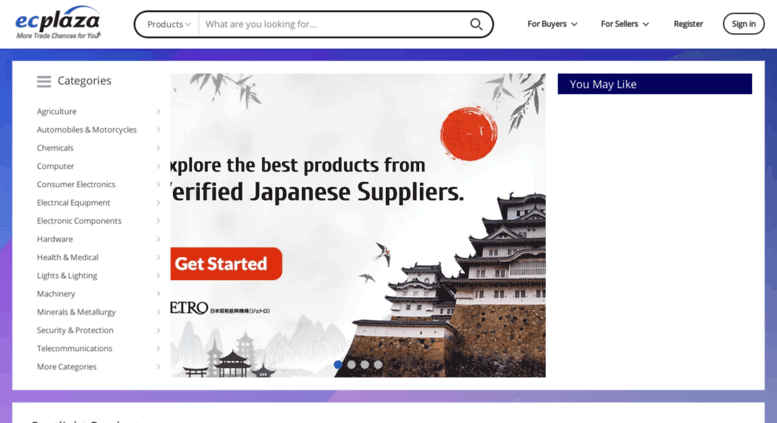 EC Plaza provides total solution for your overseas trade marketing needs. It includes;
ECPlaza.net : Global B2B e-Marketplace
Overseas Market Research
Trade Infrastructure Establishment
On and Off-line Overseas Marketing
Trade Consulting Service
8. DHgate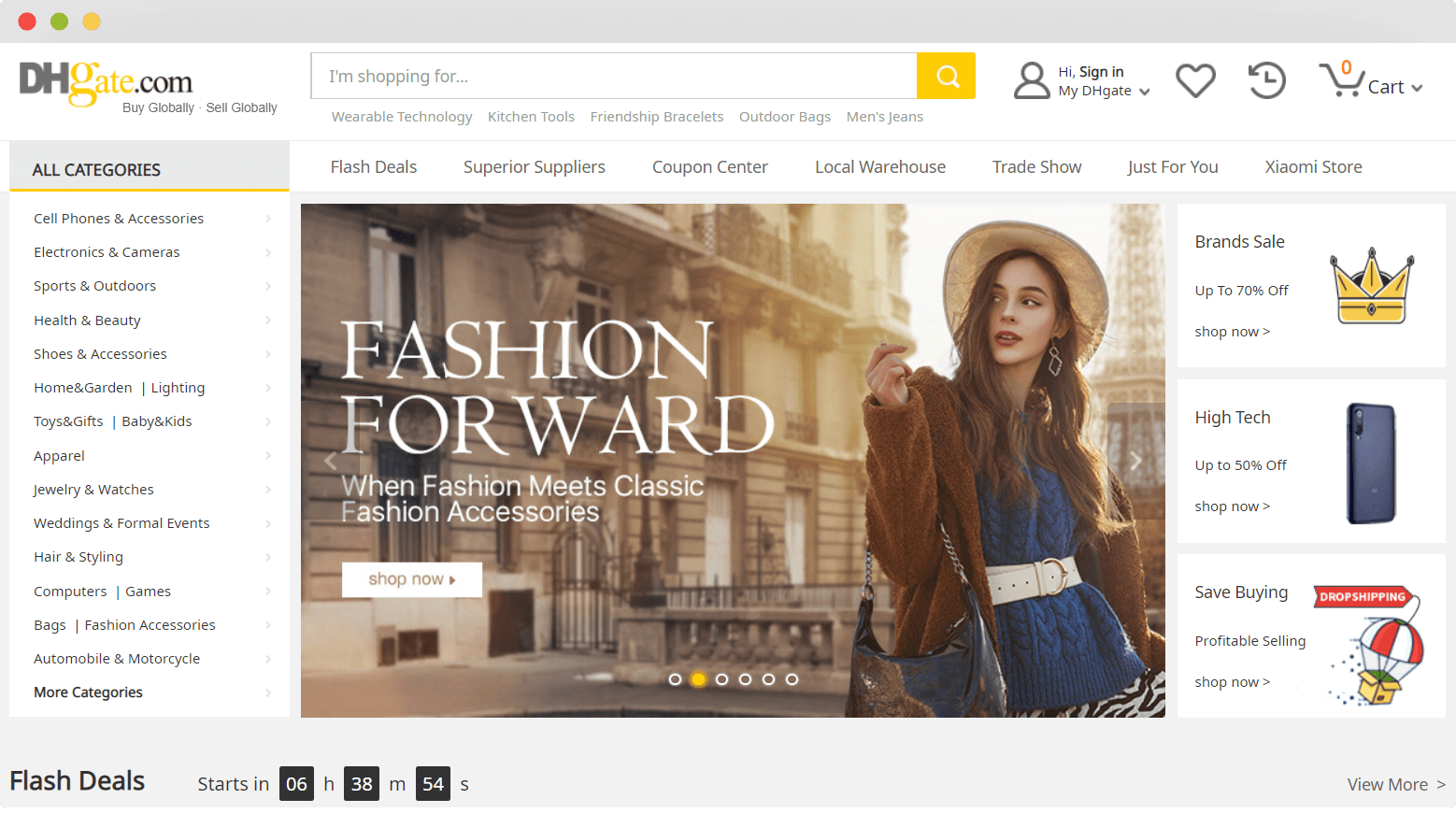 DHgate.com is a Chinese business-to-business and Business-to-consumer cross-border e-commerce marketplace that comprises the sale of manufactured products from suppliers to small and medium retailers. It is one of the largest B2B-cross-border e-commerce trade platforms in China.
9. GlobalSources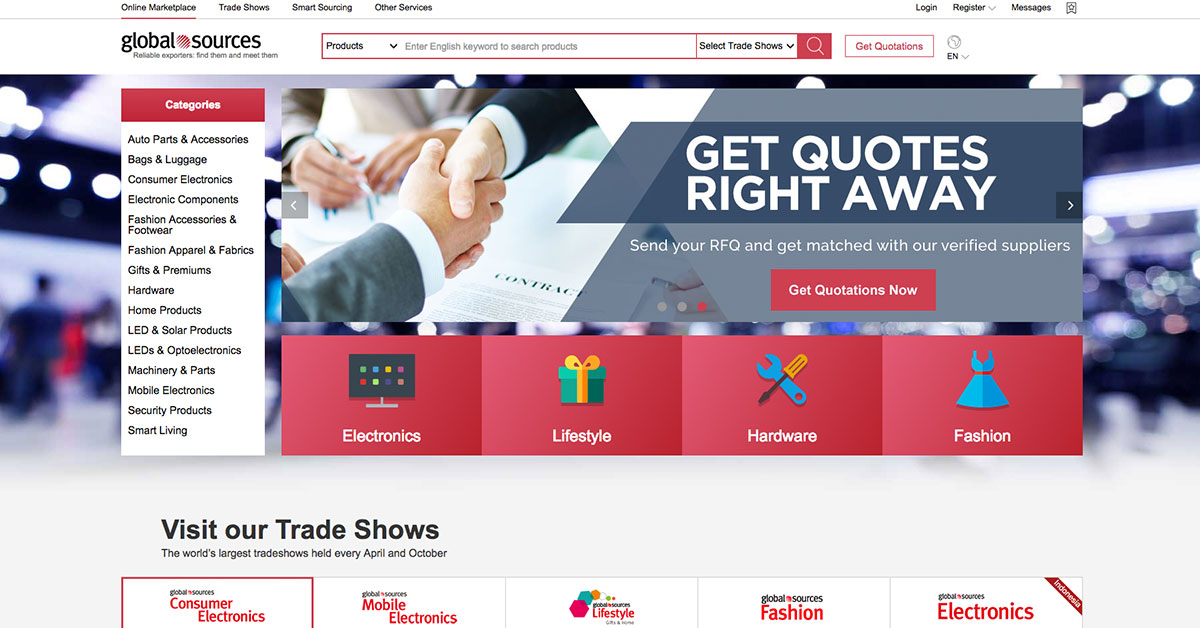 Global Sources is an internationally recognized B2B sourcing platform that has been driving global trade for more than 50 years. The company connects authentic buyers and verified suppliers worldwide with tailored solutions and trusted market intelligence through trade shows, digital platforms and magazines.
10. TradeWheel
TradeWheel is the most influential and largest USA based online marketplace that serves the most competitive and fastest growing E-commerce industry. With their efficient and intelligent tools, they cater to the requirements of a multitude of buyers and suppliers across the world in cross-border trade transactions. TradeWheel is a complete B2B online trading platform having extensive experience in the trans-border trade and digital marketing.
11. ECVV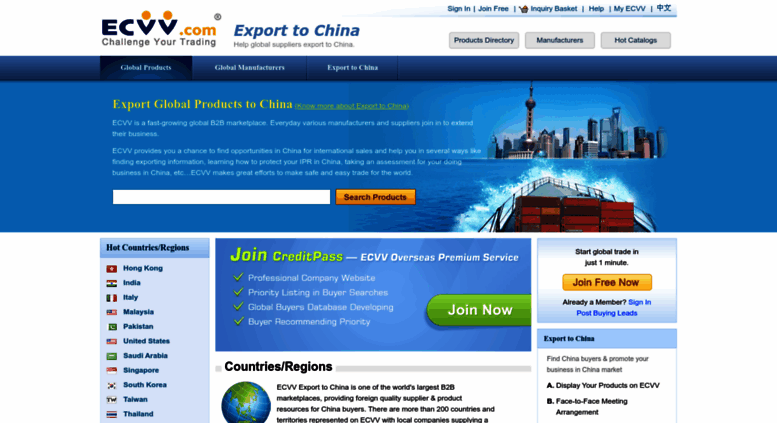 Founded in 2006 ECVV(www.ecvv.com) is one of the world's largest B2B platforms. In order to provide security procurement services for buyers, ECVV has developed a M2B2C model, which includes the provisions of premium suppliers, complete products information and assurance services for buyers.
12 years experiences
Focus on 22 Arabic's countries
Accumulated +2.2 million buyers and 950,000 suppliers in all around China
Reputation in Machinery, equipment, hardware, building materials, lighting, transport electronic, electrical appliances and others industries
12. IndiaMart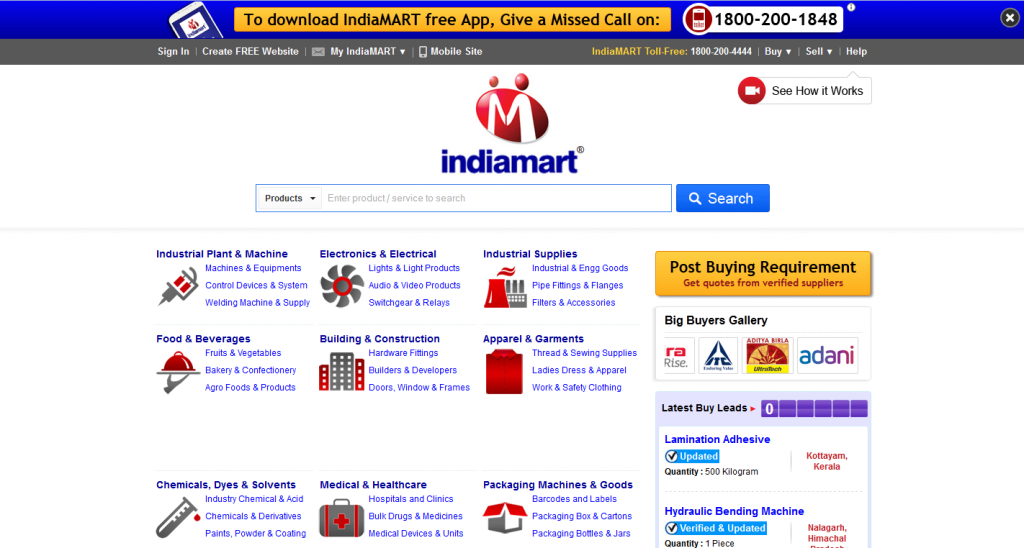 IndiaMART is India's largest online B2B marketplace, connecting buyers with suppliers. he group began in 1996 when Dinesh Agarwal and Brijesh Agrawal founded the website IndiaMART.com, a business-to-business portal to connect Indian manufacturers with buyers.
13. TradeKey
TradeKey.com is the world's leading and fastest growing online business-to-business (B2B) marketplace that connects small and medium businesses across the globe for international trade.
14. Toggar
Toggar is the first Euro-Arab B2B website for the Middle East and Europe. It was launched in Germany, 2014, and is an online global portal for E-commerce between companies. Toggar is considered to be the first B2B website for the Euro-Arab marketplace, opening channels between wholesalers in the Middle East and Europe, and bringing businessmen together in the field of importing and exporting. It is not limited to this only, but also encompasses different fields, facilitating trading between company owners and traders and providing businessmen services using E-commerce, made through online selling and purchasing.
15. ExportHub
Exporthub is dedicated to making international trading more comfortable than ever. Their range of services allows suppliers to connect with buyers worldwide for their products. As a B2B trade portal, we provide a B2B platform that lets all American, Indian, African and Chinese B2B site to enhance their network and connect with businesses across their borders. They deal in limitless industries and categories bringing you millions of products including apparel, industrial machinery, gadgets, electronics, chemicals, construction materials and much more. All listed under a user-friendly B2B portal making it convenient and hassle-free for you to find out any brand or product that you are looking for. Connect with international buyers and suppliers from Hong Kong, China, India, Russia and Australia.
Some core features of all premium services include:
Genuine buyers with authentic data.
Active buyers and suppliers from all major regions.
Assistance from Account Managers to connect with Buyers
Updates from potential buyers, thanks to SAM (Standard Account manager).
A significant boost in number of buyers for maximum ROI.